https://www.aurogroup.ac/events/aicte-rgpv-joint-teachers-training-program
"The next Era will be based on Machine Learning, AI and Data Science in Healthcare Sector"
"This is the main focus on developing devices, gadgets for analysis, generation of the accurate result as well as prediction of decease in minimal time. Artificial Intelligence will play a major role in developing new tools and techniques using machine learning to create a better future for society" said chief guest Dr. Sunil Kumar, Hon'ble Vice-chancellor of RGPV, Bhopal. He was speaking in six days "AICTE-RGPV Joint Teachers Training Program on Data Science for ML & IoT with HealthCare Applications" organized by Sri Aurobindo Institute of Technology, Indore from 23th to 28th August 2021.
Distinguished Experts from eminent educational institutes and industries across India including senior Professors from IITs and other reputed Universities delivered their views in the session. Other than these, Dr. Rahul Sonone, Physician, Ayurvedic Panchkarma Institute, Mr. Bastin Robin, Director Data Science, CleverInsight, Bangalore, Mr. Kapil Tiwari, Software Engineer, Amazon India Development Center, New Delhi, B. C. Mouli, Chief Architect, Blackbuck Engineers Pvt Ltd, Hyderabad also addressed the attendees.
The event was inaugurated by Mr. Kinshuk Trivedi, Vice President, Sri Aurobindo Group of Institutes, Indore. In the opening speech, Prof Y N Singh gave a brief intro about Machine learning's importance in the technical field, especially in health care applications. Ms. Anuradha Thota, MD of Blackbuck talked about the recent trends of AI in health care industries. She further added that data science techniques are making it easy for developers to create new devices and AI-based applications to predict correct results.
All experts share their thoughts on Machine learning using AI. They emphasized the development of new techniques to identify diseases at the early stage. Dr. Y N Singh discussed the use of peer-to-peer networks for IoT (Internet of Things). As IoT has become part of human life and various devices are available for human support, various security issues may occur during its implementation and use. He also gave insights on how to eliminate those issues.
Mr. Preet Yadav of NXP Semiconductor talked about Body Area Network (BAN). As various gadgets are available to get the current status of our body and it is helpful for patients. Dr. Vivek Tiwari from IIITM Raipur discussed various techniques used to extract required data and the result from huge data set available from various sources. Dr. B C Moulli from blackbuck discussed various AI-based models which help design health care applications.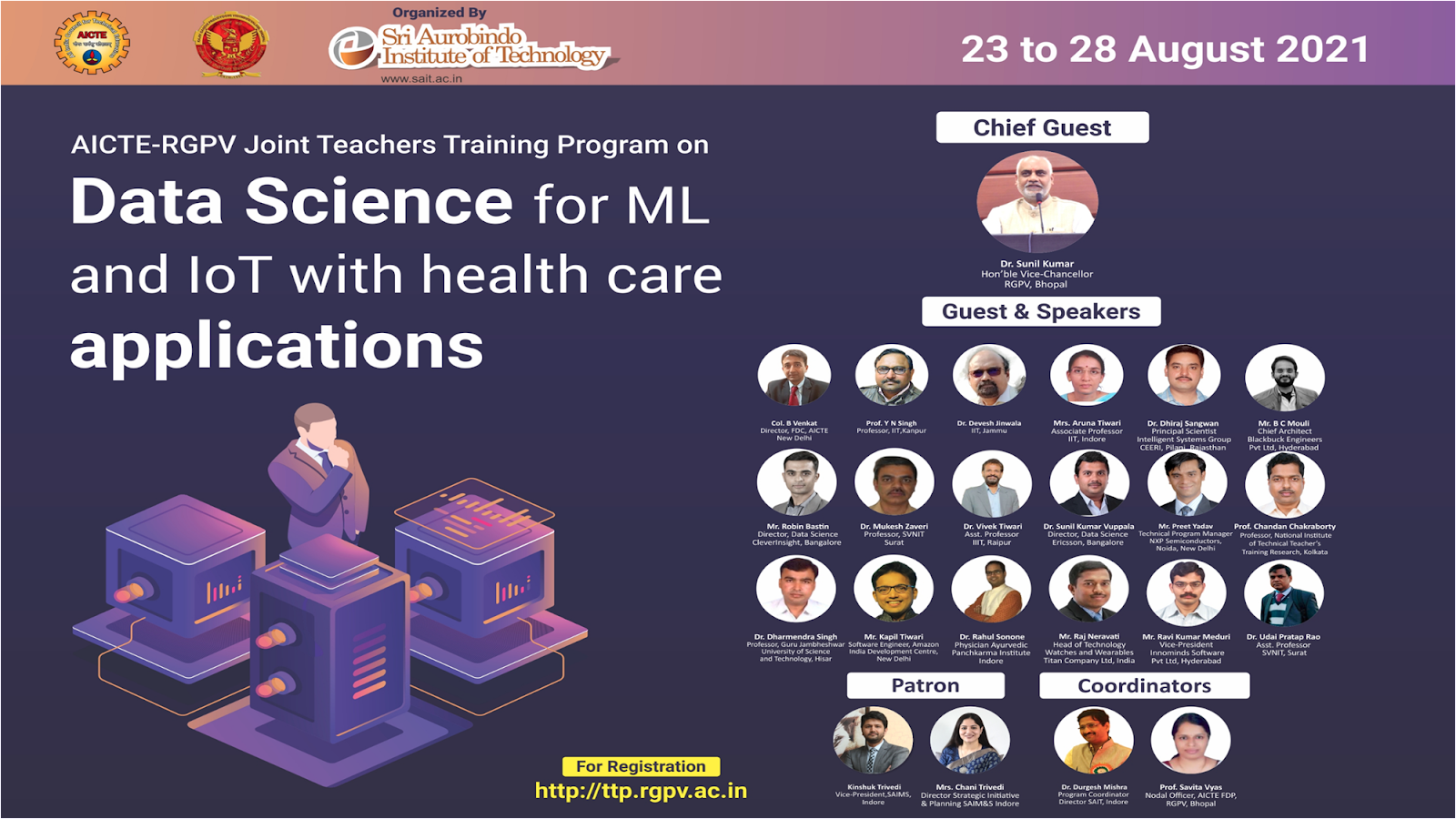 Dr. Sunil Kumar Vuppala, from Erricson in his session discussed the utility of Artificial Intelligence is useful in the medical field. Dr. Chandan Chakraborty in his lecture said that Biomedical Imaging like CT Scan, MRI, Ultra Sound, and X-rays are the prime source of information to diagnose or to find the impact of the disease. Various AI-based models have been developed in this area.
Dr. Aruna Tiwari of IIT Indore has discussed the importance of machine learning with soft computing. A protein detail consumes millions of bytes and extracting the important information from enormous data is a difficult task.
Mr. Raj Neravati of Titan India shared his thoughts on decision-making concepts. Dhiraj Sangwan from CEERI Pilani said that today's machines are needed to provide accurate results in any investigation. In such a situation, deep learning techniques play a vital role. We need the algorithms for a model design that provides meaningful results.
Mr. Ravi Kumar Meduri, Executive vice president of incoming shared various live project details completed using health care imaging with deep learning. Nowadays Indian entrepreneurs have developed various tools to diagnose complicated diseases.
In a special session of this TTP, Fitness awareness for participants, Dr. Rahul Sonene, talked about the Ayurveda theory. In his lecture, he told about the "Prakriti" of all human beings. It is "Vaat, Cough and Pitta". A small change in our daily life food habits can make our life healthier.
Col B Venkat, Director, FDC, AICTE discussed the New Education policy. For him, it will give an exposure to vocational education or skill-based activities. This policy will provide professional education to the students. Both regular and vocational education will enhance the skill set of our youth to meet international needs.
The symposium was coordinated by Dr. Durgesh Mishra, Director, SAIT, Indore. The welcome address was delivered by Mrs. Chani Trivedi, Director Strategic Planning and Initiatives, SAIMS, Indore. Dr. Praveen Gupta delivered the vote of thanks in the end.