https://www.aurogroup.ac/events/aurobindo-premier-league-intra-college-turf-tournament-2022
Cricket fever is gripping everyone!!
In order to encourage sportsmanship and the spirit of teamwork, the Aurobindo Group of Institutes is coming up with the Aurobindo Premier League 2022, an Intra-College Cricket Turf Tournament.
The 6 days cricketing tournament will be held from 9th Nov to 14th Nov 2022 at 12.30 pm in the afternoon. The sporting event will continue to run daily till 4.30 pm in the evening.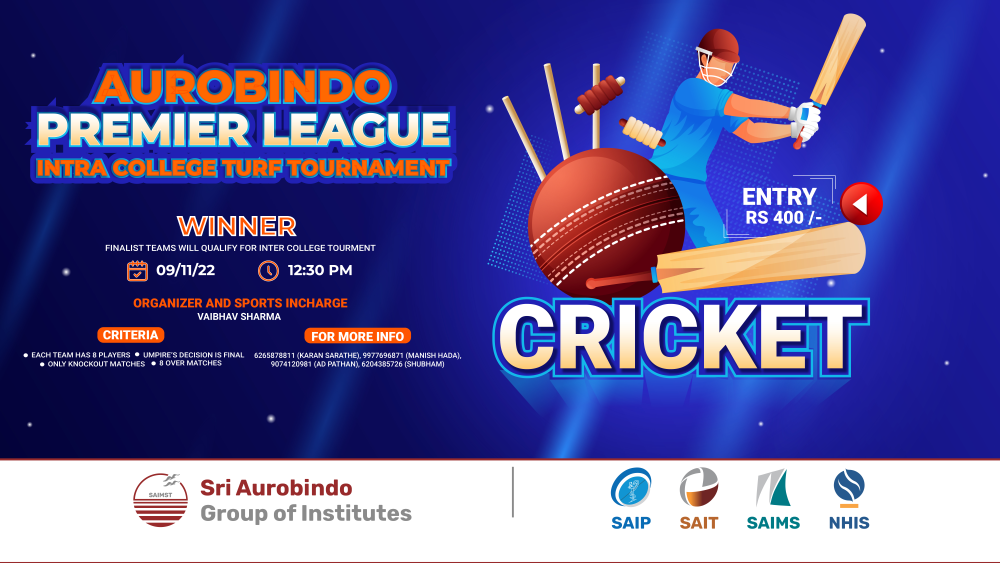 The entry fee for participating in the tournament is rs.400/-
The winning team/finalists of the tournament will automatically qualify for the Inter-College Cricket Tournament to be held from 16th to 22nd Nov between 4.30 PM and 8.30 PM.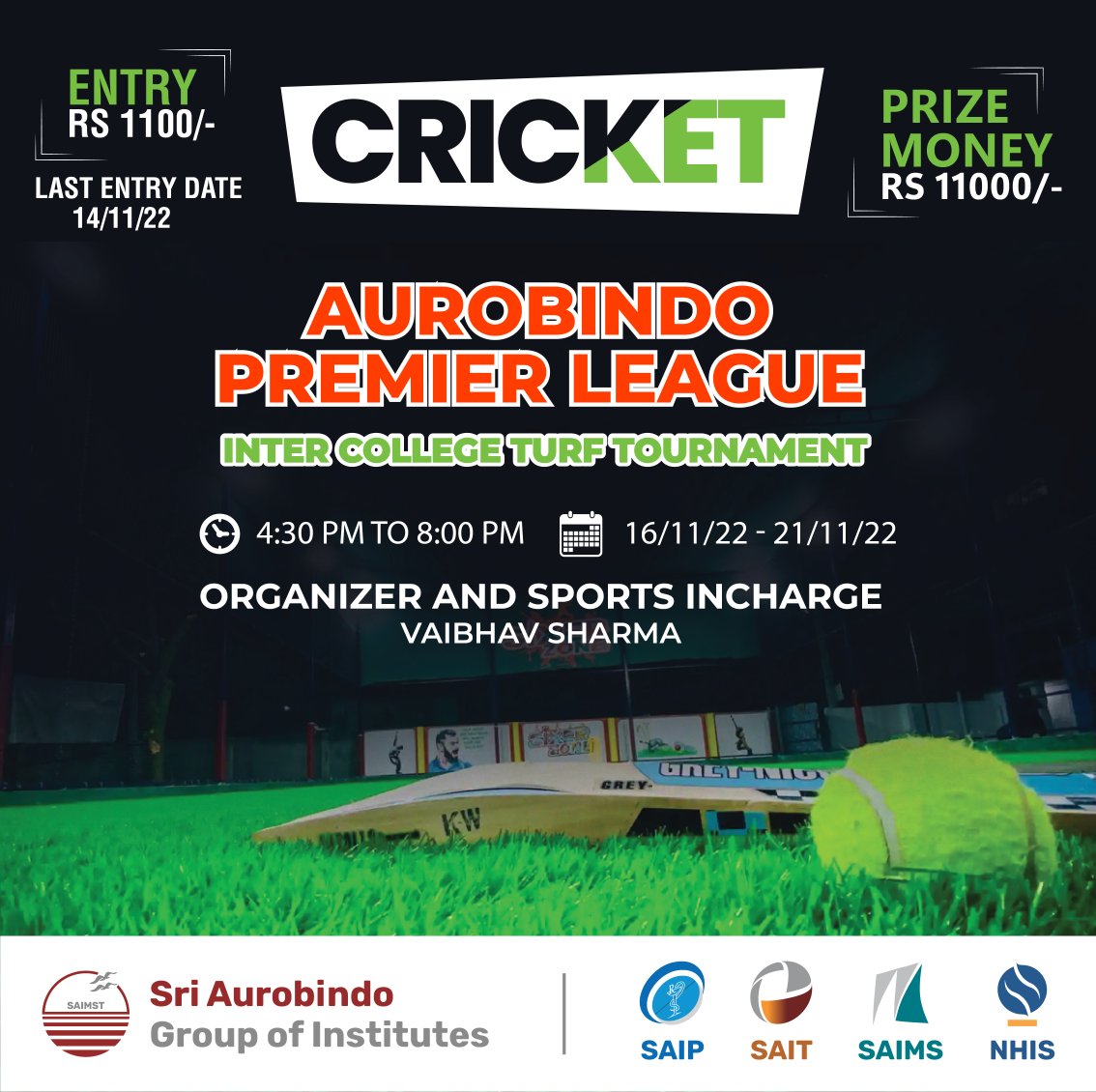 The entry fee for the inter-college cricket tournament is Rs.1100/-
The winning team will be rewarded with prize money of Rs.11000/-
For more info regarding this sporting event, please feel free to contact:
Karan Sarathe – 6265878811
Manish Hada – 9977696871
Ad Pathan – 9074120981
Shubham – 6204385726
AUROBINDO PREMIER LEAGUE
(INTRA-COLLEGE TURF TOURNAMENT)
RULE BOOK
5 Bowlers should be used (3 bowlers 2 overs, 2 bowlers 1 over).
Only 2 fielders will stand in front of the wicket.
5 runs penalty will be on rage mode of players.
2 runs will be deducted for a wicket.
One over will be a jackpot over (the score will be doubled which is scored in a jackpot over).
Over will be decided by the team prior to the inning.
A ball caught after hitting the roof will be considered a wicket.
Jerk bowling is not allowed.
One substitute is allowed per team. Umpire will make the decision.
In case of a tie, 1 super over, if no decision then balls out will be played.
Byes, leg byes, and overthrow runs are allowed.
One run will be awarded for wide, a free hit will be available after no ball.
Any ball that goes over the shoulder of the batsman will be considered as wide.
Only rubber sole shoes will be allowed on the ground (no spikes or hard sole shoes).
Players with proper sportswear are only allowed to play.
Teams having equal points, then run rate will be a factor for qualification.