https://www.aurogroup.ac/events/symposium-blockchain-technology-sait
These are the words of Prof (Wg Cdr) P Prabhakar, chief guest of the event and Chairman of IETE, India. He was delivering his lecture on "One Day Symposium on Blockchain: A New Paradigm in Information Security and Data Science" organized by CSE and EC Dept of SAIT, Indore in association with IEEE MP Section, IETE, ACM Indore Chapter. Special sessions on blockchain were conducted by International and National speakers.
The event was inaugurated by chief guest Dr Prabin Panigrahi, Dean Faculty, IIM Indore. Chairman IEEE MP Section Prof G S Tomar, Chairman IETE, Prof Wg Cdr P Prabhakar and Former CSI President Dr A. K Nayak, Mr Gautam Hazari, Technical Director, GSM Association, London, UK, Prof Sunil Yadav, Director, ITS, Ghaziabad, Prof. Subhash Chandra Yadav, Central University of Jharkhand, Shri Kinshuk Trivedi, Vice President of Sri Aurobindo Group of Institute, Dr Durgesh Kumar Mishra, Convener and Director, SAIT and all HoDs, faculty members and students were present.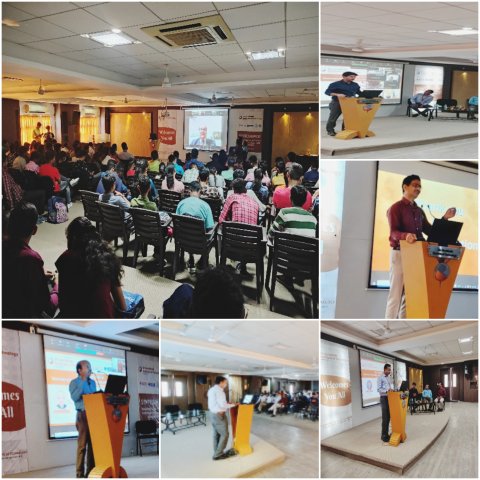 In his welcome speech, Shri Kinshuk Trivedi talks about digitization. Further, he added that we should work by thinking ahead for the next 20 years Blockchain technology is incorporated in all digital transactions, especially in cryptocurrency.
Dr Prabin Panigrahi in his session discussed about tempering in land documents was earlier possible. Using Blockchain can be avoided easily. Later he discussed "Proof of Work (PoW)" one of the consensus algorithms used in Blockchain.
In the first session, Dr P. Prabhakar discussed the important pillars of digital technology. Then he discussed Blockchain technology and its use in e-governance, especially in the revenue and excise section. The use of Blockchain is also extended in health care, logistics etc.
Prof Subhash Chandra Yadav explains the concept of Blockchain using the example of the train. Then he discusses the basics of cryptography, hash algorithm, and private and public key concepts.
Mr Gautam Hazari from London, the UK in his session talk about types of Blockchain viz private and public. In current cryptocurrencies like Bitcoin, Ethereum (ETH), Dogecoin (DOGE), ripple, Litecoin (LTC). All these are based on blockchain technology.
The convener of this symposium was Dr Durgesh Mishra, Director, SAIT, Indore. The event was conducted by Prof Shweta Gupta and a Vote of thanks was delivered by Prof Amit Holkar, Head EC, SAIT, Indore.