https://www.aurogroup.ac/events/hand-feet-coordination-management-game-saims
An offline event on Management game was conducted on 05.01.2022 for the students of the Bachelor in Business Administration program where they played a game that requires a participant to manage oneself. The main objective of this game was to increase the cognitive skills of the students that would help in their overall development.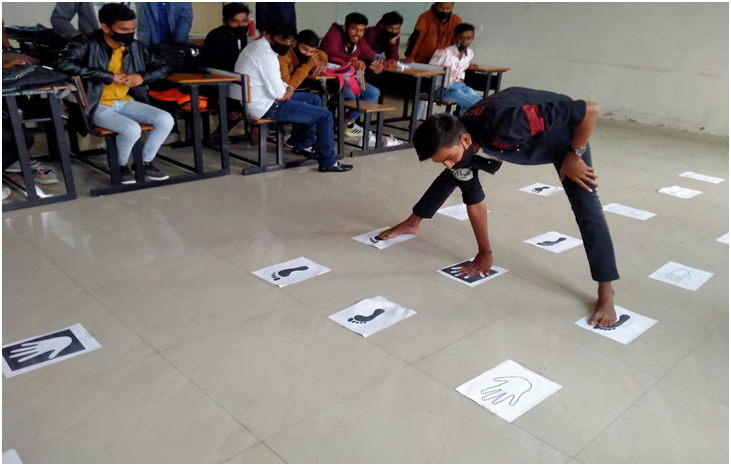 In this event, the "Hand and Feet Coordination Game" was played by the students. For this, a printout of hands and feet was arranged on the floor (as shown in the picture) and students were given the challenge to navigate their way through, where they needed to keep an eye on the target and had to be correct with hand or foot on the picture.
The game is considered great for practising your balance, coordination, and learning your left and right. Hand-eye coordination helps you to effectively and efficiently use your hands based on what you see. It involves a three-step process: Eyes – Identify details relevant to the task. Brain – Process what the eyes see and send instructions to the body.
Management game is a real-life game you can play alone or in a group – these games require you to meet certain objectives, in a specific order, but with limited time and resources. Most of these games are fast-paced and require you to plan and strategize, to use the limited resource and time as effectively as you can, before meeting the required objectives. One of the crucial benefits of these management games is that most of the time, you will be able to hone the skills you learn by playing them, to solve real-life work challenges. Considering that these games are fast-paced, they help in improving your reflexes – unless you're able to react on time to the challenges in the game, you cannot progress.