https://www.aurogroup.ac/events/national-voters-day-celebration-saims
An in-house session was conducted on 25 January by Dr. Unmesh Mandloi, Principal, Sri Aurobindo Institute of Management & Science, for the students of the institute to discuss the agenda to celebrate voter's day i.e. To raise awareness of the importance of voting, especially among the newly eligible voters of the country and encourage more young voters to take part in the political process.
The history of the Voters' Day celebration was initiated in 2011 by the then President of India, Pratibha Patil, on the 61st foundation day of the Election Commission of India. The Election Commission of India, or ECI, was established on January 25, 1950. National Voters' Day is celebrated to encourage, facilitate and maximize enrolment, especially for new or first-time voters.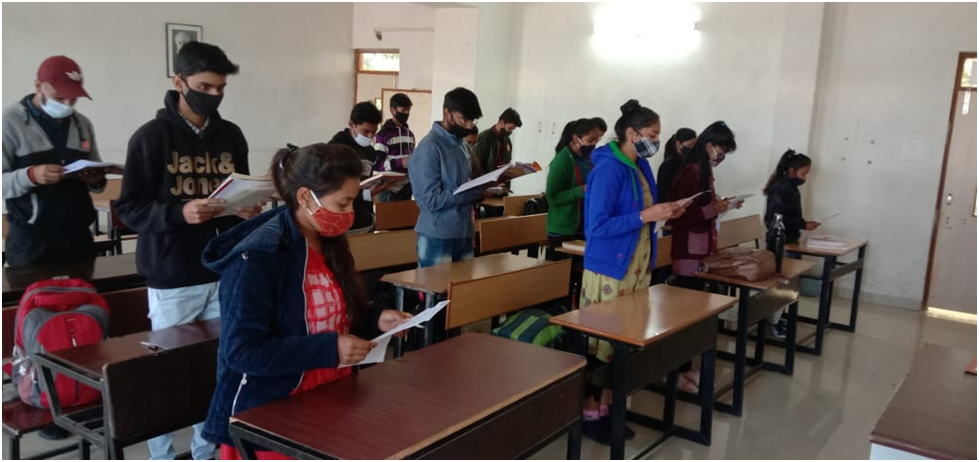 The students of the undergraduate and postgraduate programs took pledges to vote as voting is a basic process that helps to form a country's government. They were also informed of the impotence of voting and voting rights as one can choose his/her representatives through voting. Voting rights enable people the right to question the government about issues and clarifications. It also provides a sense of freedom to express an opinion in major decision-making for the benefit of the country in a democratic nation. In India, people vote once every five years to elect representatives to the national, state, and local legislative bodies. This is an extremely important exercise as people have direct power to put the right people into positions of governance.
Later, students took the following oath: "I, an Indian citizen, take an oath that I will exercise my valuable right given by the Constitution of India, of casting my vote, under every possible circumstance and whenever I get the opportunity. The election of our representative by voting is not only our right but also our duty towards the country. I will make all possible efforts to use my vote to elect a public representative who would meet the nation's expectations and I also take an oath that I would also encourage other people to vote with awareness.