https://www.aurogroup.ac/events/saip-organizes-industrial-visit-centre-for-innovation-design-incubation-cidt-sgits-indore
Event Type: Demo Day Visit
Date: 26/08/2022
Time: 11:00 am to 1:00 pm
Duration: 2 Hr 00 Mins Venue: SGSITS
Mode: Offline
Organizing Body: SAIP-IIC
No. of Participants: 33
No. of faculties: 02
No. of students: 32
Speaker Details:
Mr Abhi Chouhan Secretarial assistant, SGSITS, Indore
Event Coordinator: Ms Kiran Verma, Innovation Ambassador & Assistant Professor, SAIP
Report Courtesy: Ms Sakshi Bhawsar, student SAIP.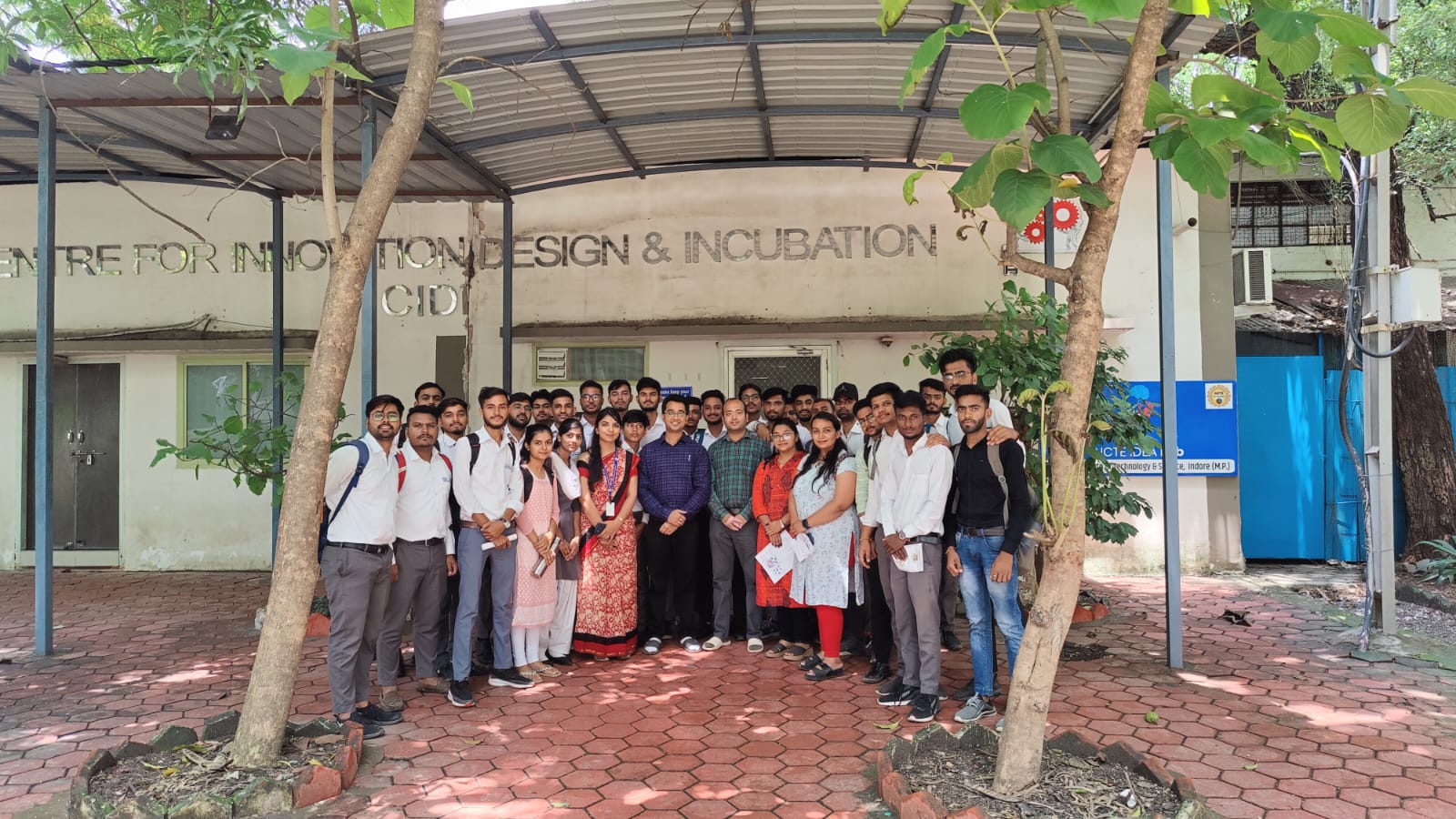 Objective of the event:
To make a visit to the Center for Innovation, Design, and Incubation SGSITS Indore, SGSITS Incubation Forum Indore and SGSITS Idea lab to make students aware of the Startup facilities and developing an Ideas or Innovation into a product with the help of the platform offered through these centres more precisely.
Event Details:
AICTE IDEA Lab Is proposed to be developed by SGSITS Indore in collaboration with AICTE NEW DEHLI. The Lab will facilitate UG PG students and research scholars to pursue their innovative ideas in the emerging field of engineering, Pharmaceuticals and Healthcare and provide facilities towards to the development of new and innovative products.
SGSITS Incubation Forum is created with the objective to create a vibrant ecosystem for technology development and Entrepreneurship.
Aim:
To align with national priorities – jobs and wealth creation through impactful businesses
To act as a platform for technology commercialization
To support Startups
Benefit in terms of learning/skills/knowledge obtained
1) The attendees were able to understand the main objective of CIDI and SIF to Inculcate Innovation, Design Thinking and Incubation activities in Technology and Science for the socioeconomic growth of society in general and students in particular
2) Discuss the ways in which any idea which has Applications in healthcare, Pharmaceutical, Technical and other fields can be nourished and developed into a product with the help of support, guidance and incubation facilities provided at the platform provided by the Institute.
3) Understanding the trademarks and different types of Resources provided in the centre –
Oscilloscope
Programmable triple channel output DC power supply
A programmable digital storage oscilloscope
Programmable Arbitrary waveform generator
5 Digital Programmable digital multimeter
PCB Prototyping machine
Seismograph & Seismogram
3D Printer
4) Discuss the various startups that originated at the Idea Lab.
5) Communicating the Thematic Areas of SGSITS Incubation Forum [SIF] – Helps in knowing about the skill developed at that location
List of Thematic Areas of Operations is as:
Medtech
Pharmaceuticals
Food and Agritech
Logistics related to smart city and smart village
Environment
Products and Services related to Industry 4.0
Product and Services for Armed Forces
6) Providing knowledge about the offerings which are provided to entrepreneurs and startups.