https://www.aurogroup.ac/events/sait-conducts-two-days-workshop-data-science-machine-learning-using-python
On August 16th 2022, the Computer Science department of Sri Aurobindo Institute of Technology organised two days of Hands-on workshops on Data Science & Machine Learning to impart industry-ready knowledge on Data Science & Machine Learning Technology to the students. Renowned subject experts from IIM Indore deliver their expert talk on different aspects of Machine Learning using python. This event was conducted in association with IEEE Computer Society- Madhya Pradesh Chapter, CSI Indore & ACM Indore.
The invited guests were Dr Prabin Kumar Panigrahi, Professor Indian Institute of Management Indore and Mr Abhishek Kumar Jha, Doctoral Fellow, Indian Institute of Management Indore. Prof G S Tomar, Chairman IEEE MP Section were also present virtually to grace the occasion. The program started with welcoming all the dignitaries at 11:00 AM. The guest was welcomed by a bouquet of flowers by Dr Durgesh Mishra; Director.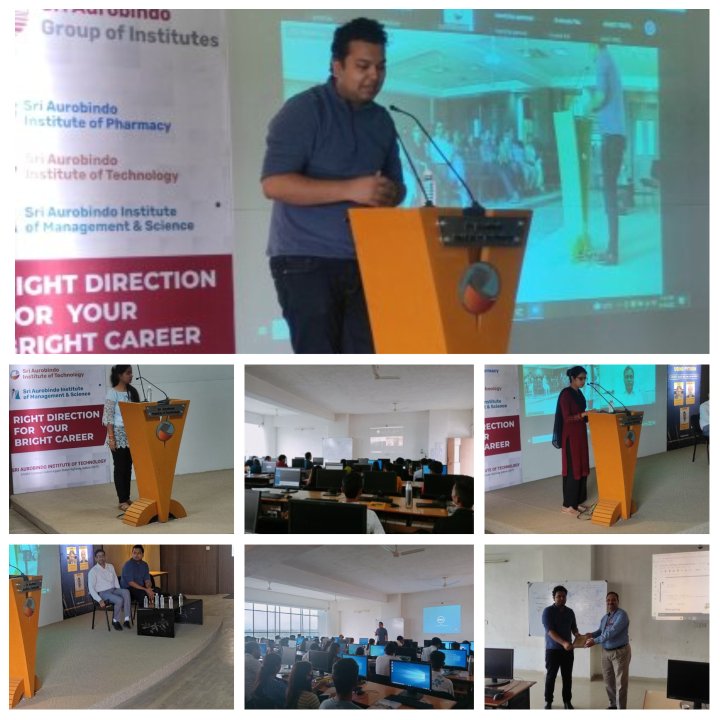 After the flower welcome, Dr Durgesh Mishra; Director SAIT gave the welcome address and briefed us about the event. Prof. Neha Dubey Introduced Dr G. S. Tomar. Later, Dr G S Tomar called for his address. Dr Tomar spoke about recent trends in machine learning and how technical society like IEEE, CSI & ACM is helping researchers to be in hand with the advanced technologies.
The subject expert talk was delivered by Mr Abhishek Kumar Jha. He delivered his talk on "Introduction to Data Science & Machine Learning". He has covered various aspects of Machine Learning and why it is essential in the present era. He started with a definition of Machine learning which is very useful for our students. He told that Machine Learning is the use and development of computer systems that are able to learn and adapt without following explicit instructions, by using algorithms and statistical models to analyse and draw inferences from patterns in data, "the application of machine learning to biological databases has increased". This Session was followed by a Hands-on practice session. The introduction of Mr Abhishek Kumar Jha was given by our Director Dr Durgesh Kumar Mishra.
On 17 August, the first expert talk on "Machine Learning" was delivered by Dr Prabin Kumar Panigrahi. He demonstrated the various aspects of Data Science & Machine Learning using examples. He explained that a machine learning model is a computer looking at data and identifying patterns, and then using those insights to complete its assigned task more effectively. The introduction of Dr Prabin Kumar Panigrahi was given by the Head of the Computer Science department Prof Trapti Sharma.
After the session of Panigrahi sir, Mr Abhishek Kumar Jha continued his session. In this session, Abhishek Sir explained the use of Panda Library functions with an example of real data set. Pandas is an open-source library in Python. It provides ready-to-use high-performance data structures and data analysis tools. Pandas module runs on top of NumPy and it is popularly used for data science and data analytics.
At last, the guest was honoured with a token of remembrance by Director sir and a vote of thanks by vice principal Dr Anupam Mandloi.
Around 60 students and faculty members attended the workshop in offline mode and 20 participants in the online mode of various streams.