https://www.aurogroup.ac/events/sait-joins-mp-startup-conclave-2022
Startup India is a flagship initiative of the government of India, intended to catalyze startup culture and build a strong and inclusive ecosystem for innovation and entrepreneurship in India.
The government of Madhya Pradesh had organized MP startup conclave, a flagship event celebrating the efforts of startups in the state of Madhya Pradesh on 13th may 2022 at brilliant convention center, Indore.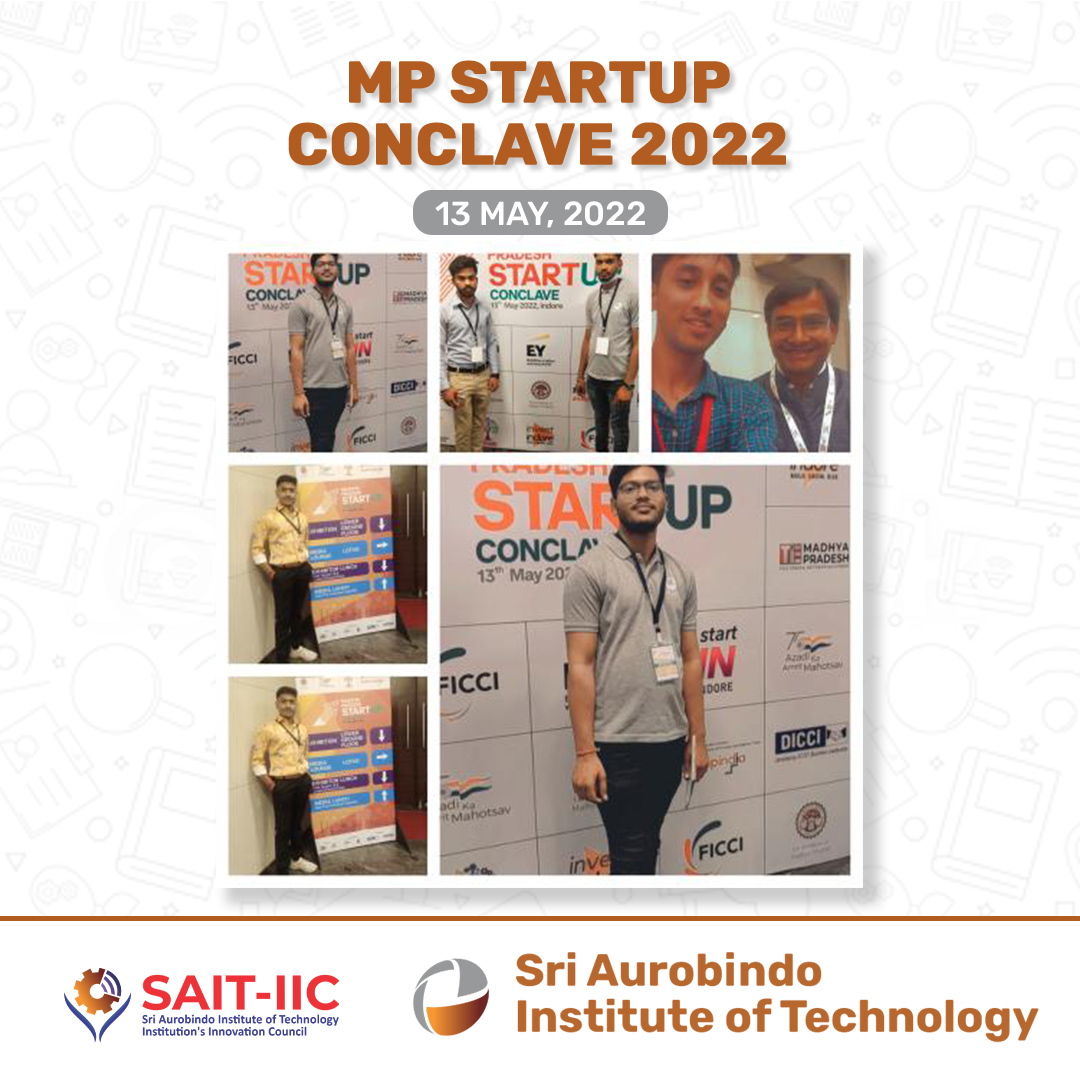 Students of Sri Aurobindo Institute of Technology had attended the conclave and actively participated in the day-long program.
The key session included: –
Speed Mentoring Sessions in collaboration with mptie where start ups have met and interacted with leaders in start up space including educational institutes, esteemed speakers: Mr. Kiran Deshpande, director – 14tree. Org , Mr. Ravi Nigam, co-founder & former md, tasty bite
Session on how to start a start-up where participants has know from policy makers and decision makers on how to start a start-up, how to tackle the challenges faced, esteemed speakers: Ms. Jayanti Dalmia, President FICCI FLO Mr. Dhruv Nath, Director, Lead Angels.
Session on funding where start ups, and potential entrepreneurs learned about various funding avenues in tier i and tier ii cities, esteemed speakers: Mr. Ajai Chowdhry, founder, HCL; Chairman ficci startup committee Mr. Manoj Kumar Jain, Managing Director, Shri Ram Life Insurance
Pitching session: Startups gain collaboration opportunities with investors and get to pitch their ideas for funding.
Investors:
Vikram gupta, founding & managing partner, ivycap ventures

Dhruv nath, director, lead angels

Manoj kumar jain, managing director, shri ram life insurance

Mohit gulati, managing general partner, iti growth opportunities fund

Vijay kedia, founder and md, kedia securities services pvt ltd

Kiran chandra kalluri, dallas venture capital

Dinesh goel, partner, siana capital

Anand saklecha, partner, ivy league ventures pvt ltd.
Mr. Parin shah, investment professional, equanimity investments etc.
Session on ecosystem support to start-ups where participants has learned about how to augment your brand value and how MP start up ecosystem can be boosted esteemed speakers: Mr. Anurag jJain, secretary, dpiit, govt. Of india, ms. Ujjwala singhania, past president ficci flo
Start-up expo: students from our institute attended vibrant expo for the exhibition of trends, innovation, solutions in start-up space of madhya pradesh